For less than a cup of coffee a day, you'll not only be a professional... you'll look like one, too.
World-class notes should be affordable. ChiroSimple provides you with unlimited notes for only $89/month. That's unlimited patients, visits, and reports for the cost of only 1-new patient visit.
With our 30-day, 100% Money-Back Guarantee, you experience why ChiroSimple is the best report-making software for animal chiropractors on the market.
Rest Easy with ChiroSimple
Claims on the Rise
It's unfortunate, claims against animal chiropractic providers are on the rise. Breathe a sigh of relief knowing your notes are going to represent you as world-class.
Cloud-Based Software
Access to all your client records anywhere in the world. Worry-free, cloud-based storage means you'll have access to all your records even when you travel.
We've Got Your Backup
Off-site back-ups are not only smart, but required. We've got you covered.
Your records are safe with us and should anything happen, we can easily recover them for you in an emergency.
Secure
We've partnered with top-of-the-line security to keep our servers (and your notes) safe from hackers or other malicious attacks.
After sending my notes to an animal neurosurgeon, he mentioned how impressed he was with my notes. In fact, he said, they're the best he's ever seen. Talk about making a great first impression!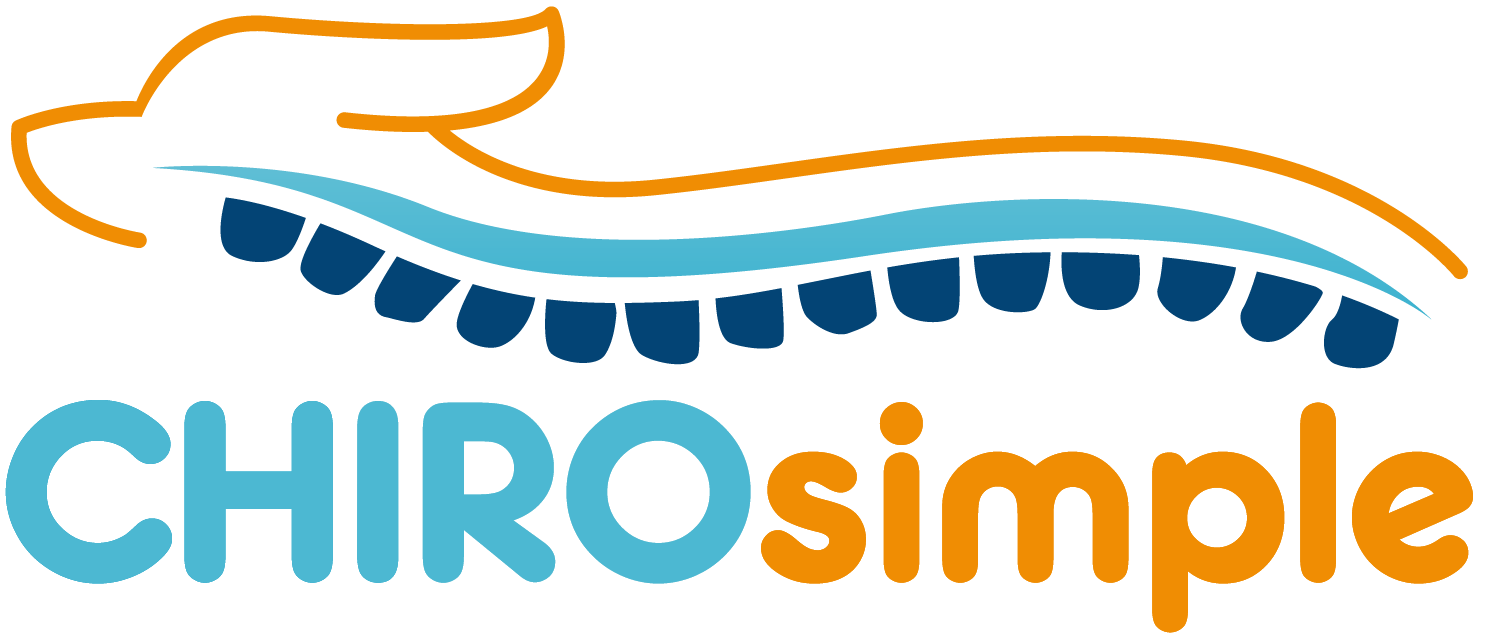 Just a few clicks and ChiroSimple does the rest. Comprehensive options allows you to show the work you did without additional hassle of writing it out. Every. Single. Time.
Get ChiroSimple

Keep Your Notes - Even if you cancel
Your notes are always your notes.  Should you decide to cancel – we won't hold them hostage.

One fee - Unlimited Notes
No monthly charge surprises. Your monthly rate is all you'll pay, period. No pay-as-you-go erroneous plans, or confusing pricing per note – we keep it simple.

File Attachments
With ChiroSimple, all your records are in one place. You can attach anything, including: previous hand-written notes, digital x-rays, intake forms, a picture of the animal and vet records.

Easy to Manage Overview
Quickly see vital information and find patient records easily with our system.  You'll love the simplicity and how intuitive ChiroSimple flows from one task to another.

Hands or Instrument? No Problem!
Whether you use your hands to adjust your patients, an instrument or even a combination of the two, ChiroSimple's got you covered. Just select your method and rest assured, it'll be accurately notated.

Check a Box - Don't Type
Our notes are designed to be quick but robust. With just a few clicks you can have a full-length and comprehensive report.
Don't settle for a program that makes you type more than you have to.

Alerts!
Keeping track of important facts by memory alone will leave you vulnerable.  We've solved this problem for you with Alerts.
Perhaps you want to be alerted a particular dog is a biter, or an owner needs assistance getting their pet out of their car – you'll stay on top of things with these reminders.

Easy to Edit
Nothing's more annoying than having to navigate multiple pages to create a single note. It's not only inefficient, but it leaves you prone to errors.
ChiroSimple keeps reports the same page. Often overlooked by other EHR systems, this detail will instantly become your new standard.

Automatic Updates
You'll always have the newest of ChiroSimple. Never download an update or bog your device down with unnecessary files. This helps maintain your and saves you one more thing to do.




One Program – Many Animals
Animals are different, so your notetaking software needs to reflect that. ChiroSimple's forms and reports change based on the animal you're treating. With different options for chief complaint to different numbers of vertebrae, we show you only what you need to see.
That just makes sense.
Don't Wait
Join our growing community of Professional Members and experience ChiroSimple with our 30-day Money-Back Guarantee.